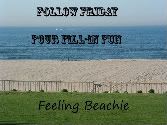 Each week, I plan on listing four statements with a blank for you to fill in on your own blogs. If you want to join the fun and come up with four fill in's of your own, please email them to me at feelingbeachie@gmail.com. If I use them, I will add you as co-host to the hop! This week's co-host is Pam from
Trooppetrie she came up with the last two statements….
I would LOVE it if you could please help me spread the word about this hop…. So, please tweet, FaceBook share, and add the linky to your post…
This week's statements:
I hate
when a certain someone thinks that the world revolves around him...
I have never been to
Hawaii, but hoping to go this coming March!
The hobby I love the most is
knitting/crocheting
and one day I will
make a living at it
.
My favorite store to shop at is
Michael's or Jo Ann's
because
it has lots and lots of yarn
.