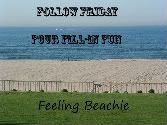 "/>
Each week, I plan on listing four statements with a blank for you to fill in on your own blogs. If you want to join the fun and come up with four fill in's of your own, please email them to me at feelingbeachie@gmail.com. If I use them, I will add you as co-host to the hop! This week's co-host is Megan from
Monday Morning Musings.
She came up with the last two statements. I
can really use co-hosts, so please email me some statements!
I would
LOVE
it if you could please help me spread the word about this hop…. So, please
tweet,
FaceBook share
, and
add the linky
to your post…
This week's statements:
1. I can't stand when people say
they will do something, and then never follow through. This really, really annoys me, but when I call them out on this, I am the one in the wrong and should just "build a bridge" (as thast is their favorite saying.... Grrrrrrr
2. If you are going to
chew your gum that way then
please
, go in the other room
.
3. Call me a
crazy 80's girl
because
I still love the music, and secretly still love the big hair!
4. If I had a dollar for every time I heard
"Mommmmmmmmmmmmm"
, I swear I'd be a millionaire by now.