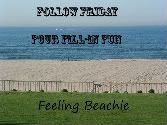 Each week, I plan on listing four statements with a blank for you to fill in on your own blogs. If you want to join the fun and come up with four fill in's of your own, please email them to me at feelingbeachie@gmail.com. If I use them, I will add you as co-host to the hop! This week's co-host is lisa from
third time is a charm
I would
LOVE
it if you could please help me spread the word about this hop…. So, please
tweet,
FaceBook share
, and
add the linky
to your post…
This week's statements:
1. I always forget
to check my ingredients before I start my baking... case in point, I had to go to the store twice for a few ingredients over the last two days!
2. I never
go to work
without
my phone!
3. Recently I started to
work out
, and it has helped tremendously!
4. If I had to find a date, the last place I would look for one is
a bar
.